In Michael's literary works he explores significant historical events, controversial political issues and themes related to religion, culture, education, family and friendship. Main focus of his subjects are injustice, abuse of power, intolerance, antisemitism
and the courage of individuals in seemingly hopeless situations.
Acknowledgements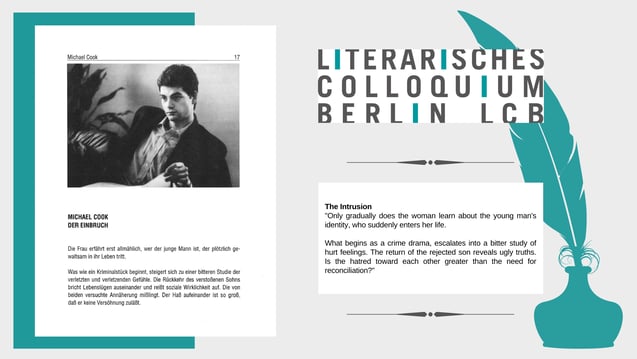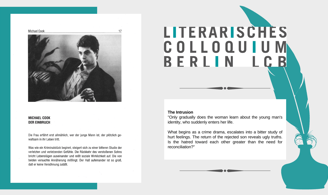 His very first stage play The Intrusion - written at the age of 22, earned Michael a fellowship at the renowned Literary Colloquium Berlin (LCB), a talent factory for authors and translators from all over the world.

The LCB enjoys the reputation of an institution of international significance through it's project initiatives, public readings and workshops.

Currently, Michael is in the midst of finalizing his 2nd. screenplay (Title & Logline to be announced). Here's what two readers / judges at The Academy Nicholl Fellowships screenwriting competition said:

1. Comment:
"…is a script with an intriguing premise. The female lead is a compelling protagonist with clear motivations and goals. The stakes are incredibly high for her. Most of the description clearly details the action and environment. The dialogue flows naturally and captures the time period and gives each character a distinct voice and personality. It's a satisfying ending. Overall, I think the script has potential. "
2. Comment:
The voice of the script is interesting and does nice world building and good work with the period detail. The basic writing is very good. It makes the house its own kind of character and uses the changing furnishing to support the main story. When it goes bigger like the ambush moment, there is scenic tension and good action staging. The final confrontation between ... and the female villain is well done. The characters all have their beats to play. The relationship between (... ) and her best friend injects life and heart into the piece. Their dialogue is frequently funny in both a black comedy and laugh out loud kind of way."
Michael's 1st. screenplay (Title and Logline to be announced) was well received by a judge at the Austin Film Festival Script Competition:

Comment:
"A tale of two parts. This is a whole different angle into the times and experiences than we've seen before. It's fresh and it's profound and we feel the pain and challenges presented to innocents … This can be a very strong project." (Category: Drama Feature Screenplay)
Thanks for reading!
Be safe.