The Night of the Iguana
The Irene Diamond Stage at The Signature Theater NY • Director: Emily Mann • Playwright: Tennessee Williams
A defrocked clergyman encounters inside disturbances amid outside disturbances during one stormy night at the Costa Verde Hotel in Acapulco as the world prepares for World War II. After four women of different ages and backgrounds, along with a 97-year-old poet, engage in the clergyman's spiritual struggles, their lives leap dramatically forward.
"The Family of Anne Frank, Made Real by Silence. A fine example of ensemble acting"
The New York Times
"The Diary of Anne Frank at STNJ is Theatrical Excellence. The cast is extraordinary
in every respect."
Broadwayworld.com
"A story that should be seen at the Shakespeare Theatre"
Centraljersey.com
"The Diary of Anne Frank' receives riveting staging in Madison. Debuting in supporting roles Shana Wiersum as Miep and Michael Leigh Cook as an earnest Mr. Kraler, who protects and admonishes the hideaways ..."
Examiner.com
"Wonderfully directed by Joseph Discher. A gut-wrenching production, highlighted by superb acting, sharp direction and a marvelous set design."
History News Network.
Terezin
Peter Jay Sharp Theater (Playwrights Horizons) • Director & Playwright: Nicholas Tolkien • Assoc. Producer: Michael Leigh Cook
Two Jewish girls, Alexi - a brilliant violin player and Violet are forced to perform for their lives in the Nazi propaganda film in the ghetto. At every turn, the girls face a desperate struggle for survival. Soon Violet disappears and Alexi's musical ability attracts the unwanted attention of the camp commander. He gives Alexi a faustian bargain; teach him to play the violin and he will reveal Violet's whereabouts.
"Terezin, at its core, is a memorial, a call to remember. I appreciate a work of art that insists we fulfill an ethical responsibility. We should remember Terezin because we must honor all that the victims were forced to endure, and the play does just that." (Aron Canter, Stage Buddy)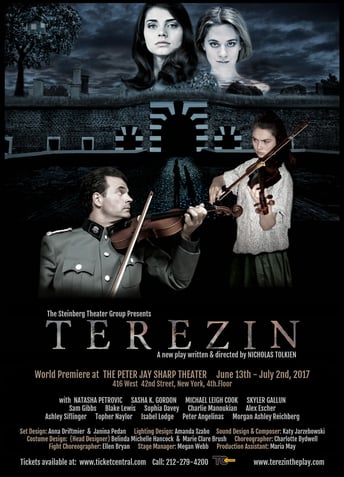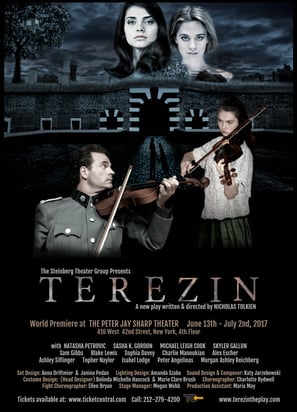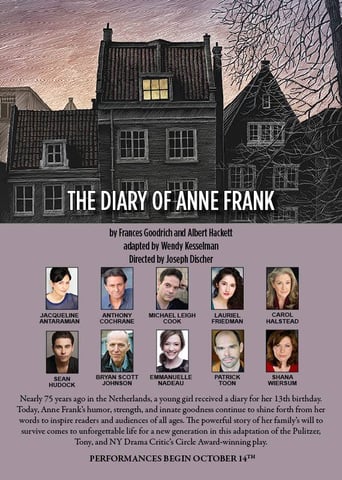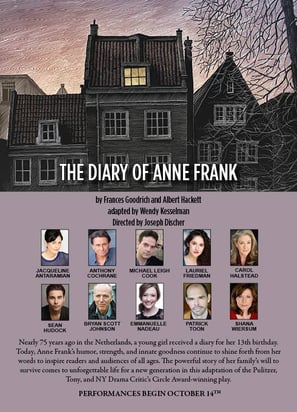 The Diary of Anne Frank
The Shakespeare Theatre of New Jersey • Director: Joe Discher • Playwrights: Frances Goodrich & Albert Hackett
The play is based on the Diary of a Young Girl, written by Anne Frank while she was in hiding with her family and friends in the Annex in Amsterdam during the Nazi occupation of the Netherlands. In August 1944 they were discovered and deported. Of the eight people in hiding only Otto Frank survived.
The diary was retrieved by Miep Gies, who gave it to Anne's and Margot's father Otto. The diary has since been published in more than 60 languages and is one of the world's most widely known books. Anne Frank's humor, strength and goodness continue to shine forth from her words to inspire readers and audiences of all ages.
A selection of reviews from European and American newspapers, as well as photos of Michael on stage…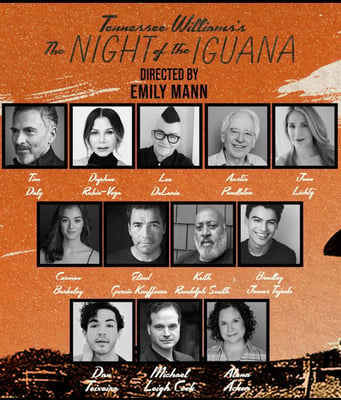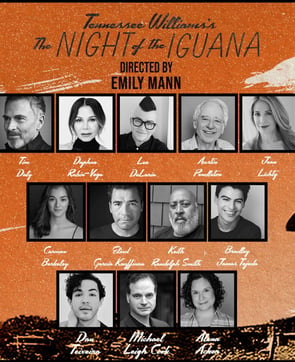 "Tim Daly, Daphne Rubin-Vega, Lea DeLaria & More to Star in The Night of the Iguana at La Femme Theatre Productions"
Broadway World by: Chloe Rabinowitz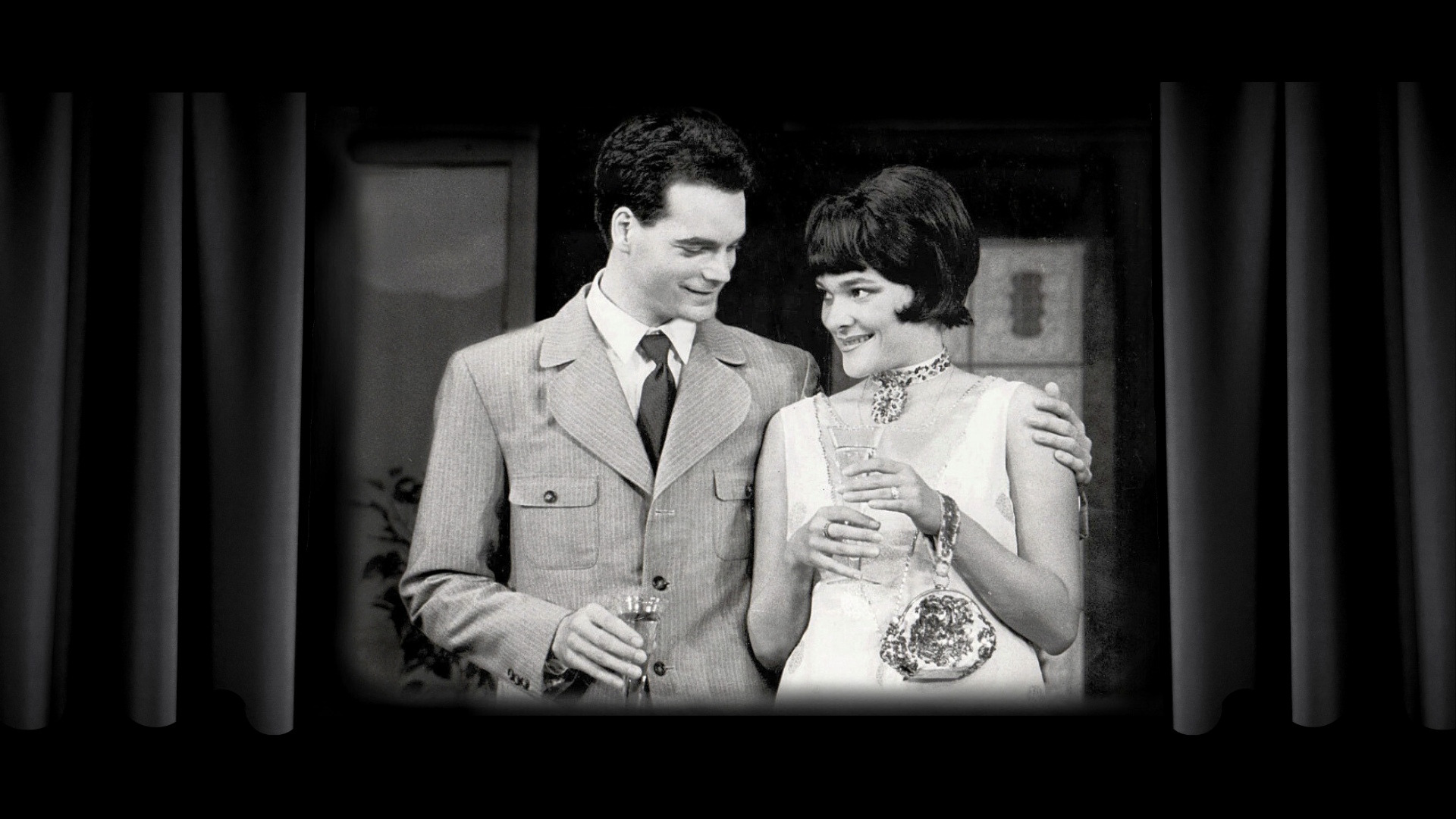 Paradise for Three
Hansa-Theater Berlin • Director : Joachim Mock • Playwright: Erich Kästner
The play was adapted from Erich Kästner's novel and became an international success, known as Paradise For Three. Michael played one of the lead characters in this beloved comedy.
"Michael Cook is gallant and funny as Dr. Scheinpflug. Plenty of laughter, skillfully directed by Joachim Mock"
- Berliner Zeitung
"A hilarious comedy at the Hansa Theater". "Splendid cast. Well worth watching".
- Berliner Kurier
It Runs in the Family
Die Komödie, Frankfurt • Director: Claus Helmer • Playwright: Ray Cooney
Britain's master farceur is at it again. Set in a hospital, It Runs in the Family contains the usual assortment of farcical nuts, running in and out of doors mistaking everybody for someone else, as Dr. Mortimore tries to fend off a paternity suit, an ex wife, a rebellious son and various other lunatics so that he may, at last, deliver the lecture in an international conference.
"Claus Helmer directed, as usual with great versatility and sincerity, which reflects in a solid, and harmonic ensemble performance. Michael Cook convinces as Leslie Tate, a rebellious teen, seeking his dad. What a fun ride this roller coaster is."
- Frankfurter Allgemeine Zeitung
"Ten actors deliver top performances, in a fast pace slapstick-style comedy. Yet, the interactions are presented in such elegant and effortless manner.... Each cast member and the very young Frankfurt born Michael Cook, who recently performed at the Städtischen Bühnen - turn this turbulent comedy into a memorable event."
- Frankfurter Rundschau - Jutta W. Thomasius
Mr. Ornifle
Euro Studio • Director : Heinz Drache • Playwright: Jean Anouilh
A tragic comedy about a philandering poet, who promises to change his lifestyle after being challenged by his abandoned son Fabrice De Simieuse.
The ensemble toured throughout Europe - performing in 96 cities.
""Michael Cook delivers a brilliant performance as Ornifle's son Fabrice"
- Westdeutsche Zeitung